At the just-concluded Open Governance Partnership (OGP) Morocco 2022, the COVID-19 Transparency and Accountability Project (CTAP) in Africa has received the highest applause and commendations from many Civil Society Organizations (CSOs), Donor Partners, Private Institutions, and the OGP Secretariat itself for their courageous role and support to communities in Ghana, Malawi, Kenya, Nigeria, Cameroon, Zimbabwe, Liberia, and Sierra Leone and Senegal during the COVID-19 pandemic.
The CTAP project team held one of the most well-attended and sought-after side events at the OGP Morocco 2022 on the theme "Strengthening Health Sector Accountability in Africa: Lessons from the COVID-19 pandemic." where it featured seven speakers out of the CTAP implementing countries, including Hon. Prince Clem Agba – Minister of State for Budget and National Planning of Nigeria, Ministry of Finance Budget and National Planning.
The CTAP was created during the beginning of the pandemic as a civil society-led effort to help monitor how funds were being donated to African governments and to place an eye on the expenditures to demand transparency and accountability about the use of public resources in response to COVID-19. Also, the project sought to advocate and advance the reforms that governments in the region needed to ensure the effective use of public resources and quality service delivery for citizens. 
CTAP, which primarily focuses on citizen engagement for development and reforms, has given rise to questions such as who to hold accountable for the numerous glaring lapses in the health sector in Africa. Questions such as whether or not Government officials can be held liable and prosecuted for mismanagement of public finance and what proactive steps should CSOs and all stakeholders play in demanding the accountability we want.
At the side event, held at Mimosa II inside Palm Plaza Hotel, Marrakech – Morocco, the event was opened by Mr Oluseun Onigbinde and Hamzat Lawal  – Global Director, BudgIT Foundation and Chief Executive CODE. The opening remarks overviewed the project's success and challenging journey. They both stressed the need for "social sector accountability in the health sector is a must and should be included in the National Action Plan for the Open Governance Partnership Roadmap."
Leading the panel session, Iyanuoluwa Bolarinwa, Assitant Manager, International growth, BudgIT foundation, opened the floor for the lightening talks, where we had speakers share real-life issues, stories and results of advocacies carried out in their countries through the CTAP initiative. 
Hon. Prince Clem Agba – Minister of State for Budget and National Planning of Nigeria, gave an excellent account of how his ministry has been fighting corruption in his government and how as a leader, he takes proactive steps to follow disbursements that he has authorised to ensure that what was submitted is being implemented. He cites instances where in his fieldwork, he had to confront MCEs and State Governors in the quest to achieve best practices. In his search for accountability and transparency in Federal Government (FG) projects, he championed and launched the "Eye-Mark Web Application" to monitor and evaluate the execution of projects embarked upon by the Federal Government. He encouraged all Nigerian participants to interact with the app and report projects within their state if they notice any discrepancies in the project delivery. This was met with loud cheers and applause from the participants due to the enormity of the app and the character of the one championing the cause, a politician, which can lead to dire consequences against him.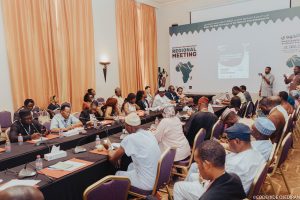 Cross section of the Panellists and Audience at the Mimosa 2.
Iyanuoluwa Bolarinwa, who is also the CTAP Project Led – BudgIT Foundation, reiterated the CTAP journey from phase I to Phase II and applauded each CTAP implementing country- Senegal, Ghana, Liberia, Malawi, Kenya, Cameroon, Sierra Leone, Zimbabwe and Nigeria for their persistent role in making the project successful.
Recounting her CTAP journey Ms Sharon Kalima – Country Manager for Follow the Money – Malawi, spoke about the hesitancy issues they had to combat in Malawi and how religion and culture played a crucial part as strong hesitancy drivers in people's decision to take the vaccine. 
She stated that one of the highlights and achievements for her team was their expose, which instigated a COVID-19 fund audit that got the Malawi President to fire his Labor Minister and arrest 19 officials for COVID-19 corruption and mismanagement. This received applause from the audience.
On her part, Ms Jennifer Addochoe Moffatt, Communications Manager – BudgIT Ghana, stated that the success of their CTAP journey could be attributed mainly to the team's numerous engagements with citizens through townhall meetings, podcasts, social media conversations, and radio engagements as well as engaging state machinery to make open health sector budget, expenditure, and procurement. She stated that one positive thing that COVID-19 brought to the public space was the open discussion of mental health issues in Ghana. Before that, mental health issue was not discussed in public due to stigmatisation and spiritualisation of the topic. Thus, people that needed support hardly voiced out, which leads to depression and, in some extreme cases committing suicide. In addition, she stated that all the above engagements led to the two research reports on health sector accountability and vaccine equity submitted to the Ministry of Health, Noguchi Memorial for Medical Research – Legon, and the Ghana Health Service. Ms Moffatt stated that one of their most significant achievement is their commitment to using infographics to simplify data for their audience, which Ghanaians have received well. 
Ms Nancy Saiboh, Country Manager of Follow the Money Cameroon, recounts how political issues in Cameroon mitigate against the concept of transparency and accountability. She says the populace is more concerned about how to curb the internal civil unrest. Thus, getting them to engage and understand the need to hold the government and state institutions accountable for what has been entrusted to them was difficult.
The highlight of the day was the contribution of Mr Charles Bazie, Youth coordinator of Open Data in Burkina Faso. He stressed the need for technology to play a vital role in the quest for transparency and accountability. Mr Bazie added that his organisation is open to co-creation and collaboration with other CSOs and private stakeholders who need technological tools to reach a larger audience.
In his closing remarks, Iyanuoluwa Bolarinwa admonished all CTAP-implementing countries and participants to "build conversations on the importance of mainstreaming social sector accountability and service delivery in the OGP National Action Plans and also entrench permanent dialogue mechanisms". At the end of the session, all participants are expected to support a charter to engage governments, stakeholders and civil society back in individual countries on strengthening health sector systems through accountability with the OGP as a vehicle in achieving such objectives.
This year's Open Government Partnership (OGP) Africa and Middle East Regional Meeting took place from November 1-3, 2022, in Marrakech, Morocco, hosted by the Government of the Kingdom of Morocco. A national committee led by the Ministry of Digital Transition and Reform of Administration, and the OGP Secretariat, organised the event. 
The OGP Africa and Middle East Regional Meeting brought together open government champions and stakeholders from the region and key international partners to raise collective ambition, energise the community, and generate new political support to make governments more transparent, accountable, and responsive to citizens. In the spirit of accelerating sustainable development and economic recovery in Africa, this year's meeting focused on leveraging open government approaches to strengthen regional public service delivery. Participants shared their experiences, best practices, and lessons on advancing critical public service policy areas, including anti-corruption, digital innovation, access to justice, and civic participation.